Less is more, but nothing is still nothing. Stylist Louw Kotze repurposes a Donatella Versace quote to describe Tarun Tahiliani, 60, a 'maximalist' who is "well researched and knows his own signature". Tarun's show at India Couture Week, which concluded on Wednesday, had the refined aesthetic and sculptured fits we now take for granted, but the intricately embroidered lehengas, saris, and jackets were also backed by strong craftsmanship, a fusion of chikankari and kasheedakari, and references to Byzantine art, Egyptian doors, and Persian motifs.
Models walk the ramp with designer Tarun Tahiliani's creations at the India Couture Week held in Delhi's Taj Palace
Also, when most of the 16 couturiers who showcased at ICW invested in what is now de rigueur, the Bollywood showstopper, Tarun chose to close his show with his core design team instead. With the going fee for these actors at over ₹50 lakh (up from approximately ₹10 lakh pre-pandemic), it seemed the eloquent couturier, along with other old-timers like Suneet Varma, JJ Valaya, and Rajesh Pratap, was making a statement about letting the clothes speak for themselves. That many of the showstoppers, from actors Sara Ali Khan to Disha Patani and Kiara Advani, had ironically been garbed in bralettes and thigh-high slit skirts on the runway, is another story altogether. It did lead to a rash of memes, one likening them to variations of Indian cottage cheese, and it did get media coverage.
But Tarun, in his inimitable way, chuckled and carried on. After all, as FDCI chief Sunil Sethi puts it, "Tarun holds his position with the big spenders of couture and yet you also see him in the mass market today. No one has been able to replicate this." He is referring to the designer's 2021 partnership with Aditya Birla Fashion and Retail and the successful sub-brand, Tasva, for men. Tarun, meanwhile, has a busy year ahead. A tome with Roli Books is to be launched later this year, more Tasva store openings, perhaps an India Art Fair outing for his wall art, and next year, an exhibition with Singapore's Asian Civilisations Museum, the first of its kind for an Indian designer. "And I am trying to take a piano exam in the middle of all of this, for my sanity," he adds. More from the couturier:
Being fluid
Louw Kotze, creative consultant on communication and styling at Tarun Tahiliani, managed to get the designer to wear a dhoti at the show. His male models sported anklets, earrings, polished hair and a more fluid vibe. "It is not a fruit salad when it comes to Tarun. He has an elevated sense of style, a refined look. He is friends with all the stylish women in India. I feel we must explore that next in our campaigns."
Your 'New Man' in this collection, For Eternity, is fluid and avant-garde, with a nod to the 90s. Is menswear having its moment in India?
I would say that Indian men have become super fit as opposed to my generation who were very simple in what they wore. Then they went the whole 'over the top' Indian route. Now they are global and fit, and they are synthesising our culture with tailoring and what they are exposed to in the West. We are a very global economy now, at this level of consumption, and I really feel it's the new man.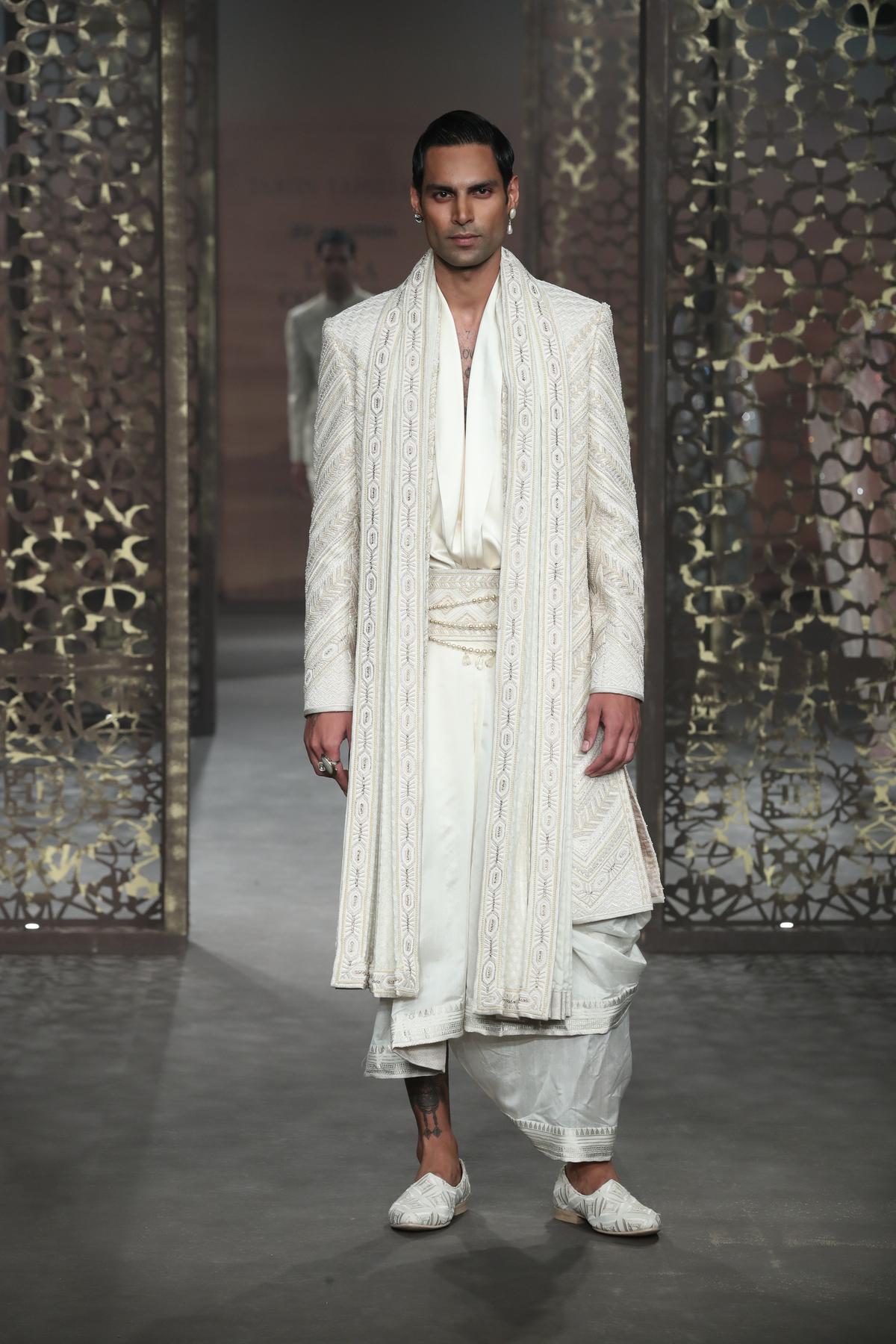 You've opened your atelier to groups of people, confident about them interacting with your employees, getting into your business. A fellow journalist called it the 'open kitchen' concept.
People wonder aloud at me showing everyone who my designers are. I say, 'please come in, it's an open book'. We work painstakingly on those clothes, it's not as if someone can walk out and recreate them. Also, everything is on the Internet. I have very strong beliefs in what we do. This forces standards of hygiene and excellence. There will always be someone who will try and poach an employee. But we are building a culture. I am also inspired by Brunello Cucinelli [the Italian luxury creative director transformed his hometown village in Umbria to help the locals and calls himself a temporary guardian of this place] and how that town runs. That's what I want for this company. For that you have to have it open.
You were the first to highlight why Indian brides needed lighter and comfortable garments.
I heard about this one bride at her reception, whose lehenga snapped and fell off. It just cascaded down with the weight. Many years back, I saw something shred as the poor girl did her pheras. It just seemed ridiculous.
Pre-show at TT HQ
Earlier that day, before the India Couture Week show, media and friends gathered for an immersive experience at Tarun's monumental atelier in Gurgaon, with its brick vaults inspired by Delhi's Jamali Kamali Mosque. The purpose, as in 2020 to celebrate the brand's 25th anniversary, was to let visitors get behind every detail of the For Eternity collection, from the Chikankari to the molten brocades, the Parsi gara saris and the heavy-duty lehengas.
One of the ensembles, featuring freshwater pearls on the blouse, and opals, came with an equally heavy-duty lehenga with organza 3D flowers and a veil that could transition to a cape (approximately ₹28 lakh). Elsewhere, his silver jewellery or travel luxe line sparkled with rock-cut crystals, rutile stone, and citrine. "We free people from income tax officials," Tarun joked, clearly enjoying the styling possibilities of this jewellery.
I know a lot of people are worried about others being more dressed than the bride. To me, that is the biggest folly. Money and luxury are meant to free you and luxury is how you feel on your skin. By acknowledging this, that you are worrying over someone else being more heavily dressed, you are telling me you are so nouveau that you have no confidence. Sorry to be so blunt.
How has your journey with Tasva changed the way you approach the business of fashion? 
The business of fashion is that whatever you stand for has to be reinforced. The most significant thing that I learnt from Tasva — it's not been easy, I have 59 stores and 30 more in the offing — is that you've got to connect to your market. In luxury we can spin stories, but here it is a totally different world, about numbers, economies of scale, production, and mapping people's expectations. There are many streets and towns in India that find Tasva expensive.
As a premium mass brand, I want to give quality, but we must understand what the market can afford. There is a constant tussle as I don't want Surat's machines attempting Banarasi, even if it's on the power loom. I don't want their designs being knocked off. Tasva has helped the luxury brand too. Because of it, we started to move everything in TT back up, as we were getting confused trying to attach many different price points. I have learnt so much from the Aditya Birla guys that it has allowed for much clarity.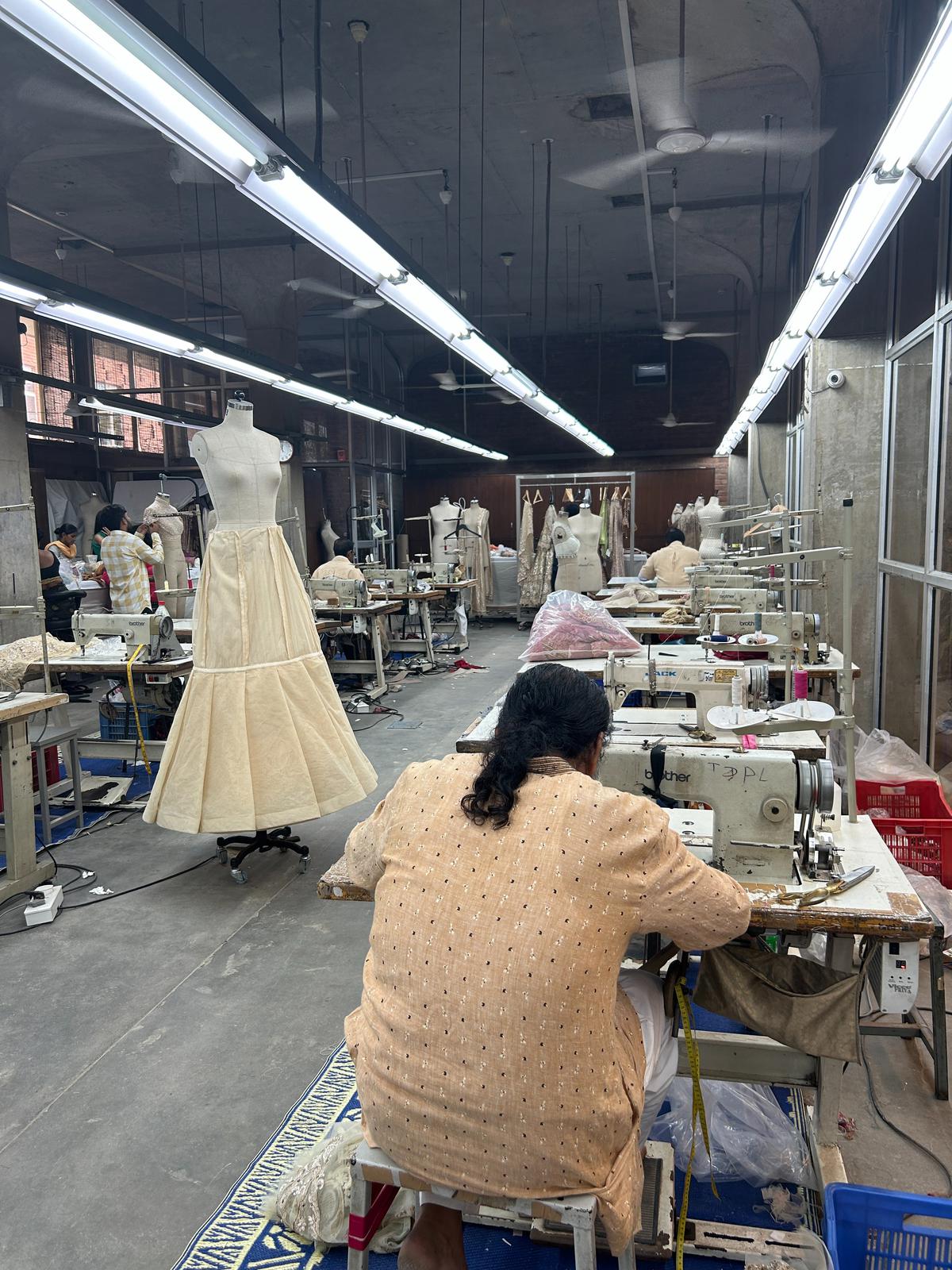 You make time to attend iconic fashion exhibitions and retrospectives. What can you tell us about your upcoming show in Singapore that has been in the works since the pandemic?
I loved the Vivienne Westwood retrospective and how she told her story. I've even flown all the way to see Alexander McQueen: Savage Beauty at the Victoria and Albert Museum in London. This year I haven't made it to the Karl Lagerfeld show [at the Metropolitan Museum of Art] because I have been so busy. Even though it was mounted by the wonderful Japanese designer Tad Ando, it's too many black and white dresses for me to make the trip!
Friends with benefits
At the studio, which is part factory, part institution, there were shimmering jackets inspired by Byzantine tiles, a crowd favourite at the show that night, and creative inputs by the designer's friends, from product designer Vikram Goyal of Viya Home to genius jeweller Viren Bhagat. The latter, who sent him a photograph of a door he saw in Cairo Museum, initiated the interpretation of the jaali in garments.
But I have always been interested in museums and narratives. I find them more and more powerful, if you see from museum attendance: 650,000 in the case of McQueen. In Singapore, they expect 250,000 people and it is a wonderful, immersive space to tell your story. We are going to be combining old artefacts and I will visit their vaults, which itself is so exciting to me as an education. We have AI and special effects and everything else banging at young people's brains, but in the last few 100 years, what has been documented proves that culture and life is a wheel; it is about evolution. I think these shows help us value where we came from, so we don't abandon everything tomorrow. The show comes on the heels of the book, which explores how old India has influenced me: sculpture, painting, sadhus at the Kumbh Mela, miniature paintings, and the UK-based art influencers Singh twins, all different stories.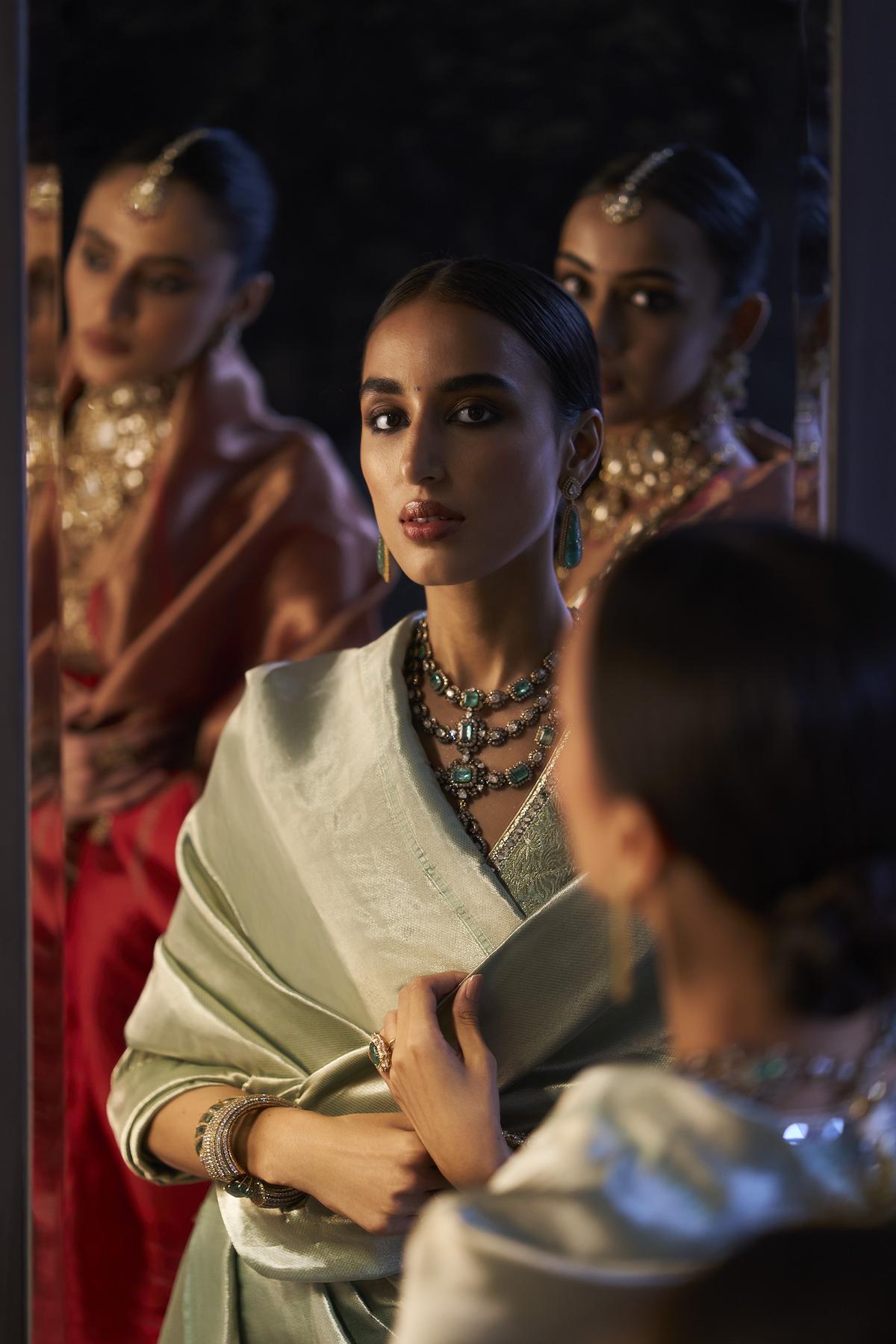 You went ahead without a Bollywood showstopper. Some said you were throwing down the gauntlet on the crazy fee demanded by these celebrities.
It's not that celebrities don't work, as they have these giant followings. When they stand for something that is concurrent with what they are endorsing, it's great. To be honest, I was under a lot of pressure to get a showstopper. And yes, I did throw down the gauntlet on the crazy fee and stipulations… they say, 'sorry we advertise for this brand so we can walk for you but can't post it'. I'm very uncomfortable with this. I told my team, 'If you don't have a showstopper you have to be that much better.'
Wall art growing
The last couple of years has seen a rising interest in tapestries from the brand, as well as jeweled wallpaper. Both the Bengaluru and Mumbai stores have impressive wall art, directed by Anupama Kabra, design manager, R&D. Anupama, who first joined Tarun as an intern in 1994, and later retuned to the brand in 2019, has revived the Nottingham lace Pichwai that were woven in England at the turn of the 20th century.
They feature hand-dyed rice pearls, metallic threads, sequins and French knots. "There is hand carved mother of pearl, like a champa or mogra, and unusual application of the embroidery. There are around 50-60 elements, each individually embroidered in a different technique," says Anupama, who describes the fantastical Midsummer Night's garden theme on these walls, with say, Swarovski on a beetle or a lizard and French knots on the petals of a flower. "It is put together like a jigsaw puzzle. The banyan tree is our signature," she says, from Lucknow, where she is fitting yet another piece of art for a client. "Tarun has made wall art a commercial success," she says. Almost all the furniture and interiors at TT stores are courtesy his foraging, we Iearn. "He is loathe to sell any of those pieces. There are these brass dogs from the Mumbai store that customers have their eye on. And a series of small art works, postcard size, in the Mumbai store," Anupama concludes.
I have seen many showstoppers in the last two weeks, looking ridiculous, walking in seriously uncomfortable clothes or in clothes I don't know who wears. The last I saw this silhouette, Bindu used to wear it, the vamp in the 80s, in films like Shankar Dada. Serious journalists need to talk about the clothes and not just the showstopper. Very often in that press conference, they want to know about the showstopper's film, who they are dating etc. When I stand there, I feel hugely cheapened, for all the effort that has gone into the collection. I am sure I'll do shows in the future where a sponsor might want a showstopper, and I might not have a choice. But when I do it on my own, this is my choice.