New Delhi: Bollywood is all set for one of its much-awaited releases- 'Rocky Aur Rani Kii Prem Kahaani'- a Karan Johar directorial which has cast a spell with the magnetic duo of Ranveer Singh and Alia Bhatt gracing the lead roles. Scheduled to hit the theatres on July 28, 2023, this movie is the first one by Karan Johar after 'Ae Dil Hai Mushkil' which was released in 2016, which makes it all the more exciting. Apart from that, this 'Dharma Production' movie has another added attraction as well- Alia Bhatt's gorgeous chiffons. 
Designed by Manish Malhotra, those chiffons have been a treat to the eye not just in the movie but also all along its promotions as well. Alia chose to wear lovely chiffon sarees from the shelves of Manish Malhotra as she and Ranveer travelled around the county for the promotions of the film. These sarees not just add a typical Bollywood touch but also are a great option to wear for weddings and other parties. The elegance of those pieces of 6-yard is indeed drool-worthy.
Alia Bhatt's sarees by Manish Malhotra embrace the elegance of the six yards and showcase a fusion of contemporary ethnic allure. Chiffon, sheers, and ombre fabrics steal the spotlight as they lend a lightweight and flowy feel to the sarees, enhancing their romanticism. The classic fabrics are elevated by infusing them with the fresh charisma of sophisticated colour blocking, novelty lace borders, authentic artisanal prints, and subtle embroidery. Glamour and creativity shine through the saree's coalition with trending blouse silhouettes. They have become iconic due to their unique design, reflecting the film character's personality, and adding to the overall visual appeal of the film. Their rosy resemblance to Bollywood's legendary romance track aesthetic brings forth the audience's deep-rooted connection through nostalgia. 
To truly appreciate this amorous wardrobe, let's take a look at Manish Malhotra's most memorable six-yard wonders that splayed over the silver screen. 
1. Deepika Padukone in Badtameez Dil
In the mesmerizing blend of champagne sequins against a regal blue backdrop, Manish Malhotra single-handedly revolutionized the quintessential inspiration for cocktail night fashion. The lapis lazuli chiffon sari, gracefully trimmed with gota patti borders, accompanied by a handkerchief, sequined blouse captured the essence of simplicity, elegance, style, and timelessness.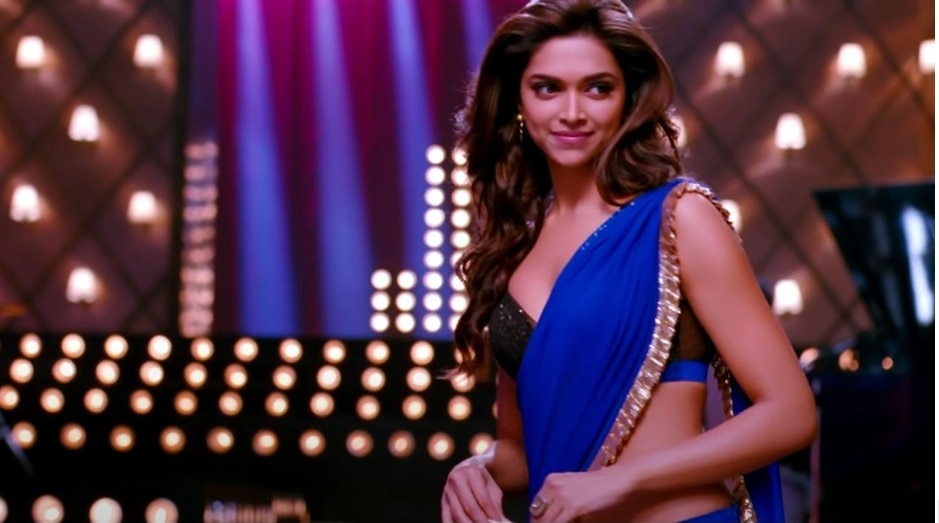 2. Priyanka Chopra Jonas in Desi Girl
Breaking barriers and bending fashion norms, Manish Malhotra fearlessly blazed a trail for the quintessential Indian sari, amidst a sea of gowns and LBDs in Miami. The bewitching metallic sari, embellished with sequins, and the audacious bikini-style blouse, propelled Priyanka Chopra's iconic "desi girl" image to unparalleled heights, etching it forever in cinematic history.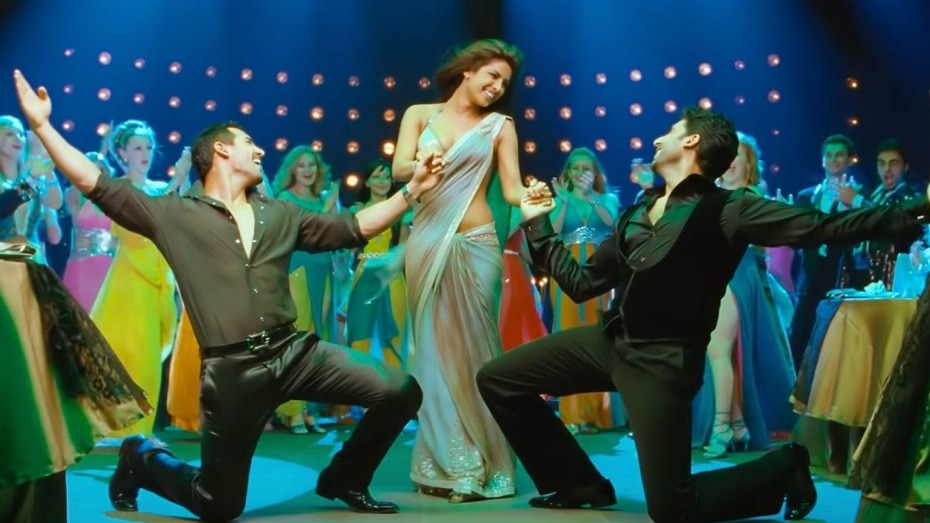 3. Kareen Kapoor Khan in Chammak Challo
Amidst a cinematic landscape teeming with superheroes and their video games, Manish Malhotra chose an unexpected yet powerful ally for Kareena – the timeless red sari with embroidered gold border. A move that undoubtedly left its indelible mark, immortalizing not only at Madame Tussauds, London but also in the annals of Indian fashion history. With this audacious look, she effortlessly unleashed the half-net blouse and the alluring ultra-thin pallu trend that took the style sphere by storm in the early 2010s.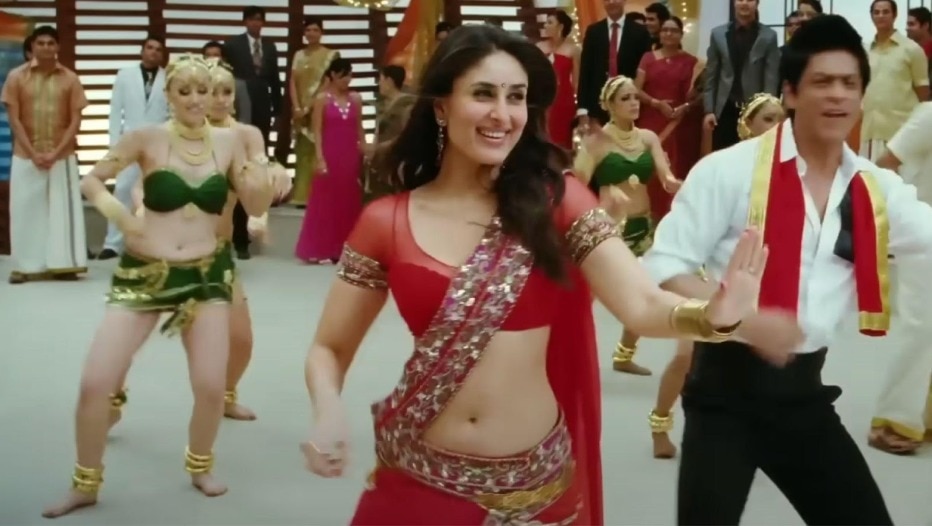 4. Sushmita Sen In Main Hoon Na
Sleeveless blouses with audacious knots at their backs, traditional abhla work embellishments, and the ever-charming leheriya tie-and-dye graced body-hugging chiffon and georgette saris, hit refresh on Bollywood's fashion lexicon circa 2004. With a delightful concoction of humour and flair, Manisha Malhotra reiterated the versatility of saris as the ultimate functional garments, while igniting a plethora of college professor fantasies.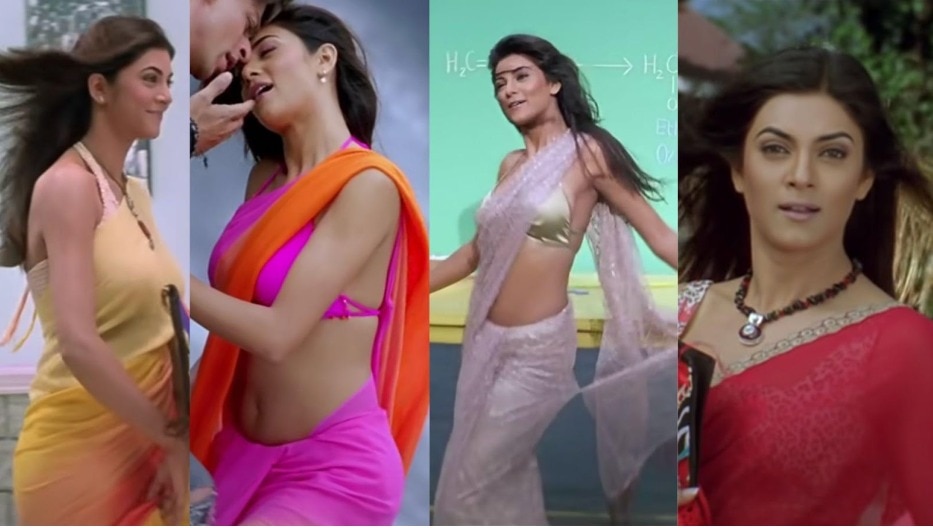 5. Kajol in Suraj Hua Maddham
In the ever-enthralling realm of Bollywood, the timeless allure of chiffon saris persevered as an enduring symbol of seduction. Kajol, effortlessly donned monochromatic, figure-embracing ensembles in the cinematic gem "Kabhi Khushi Kabhie Gham". Exuding a kaleidoscope of vibrant hues, these captivating sarees were adorned with sequin, beads, and embordered borders, and were perfectly complemented by their understated yet sophisticated blouses, leaving an indelible mark on the hearts of cinephiles and fashion enthusiasts alike.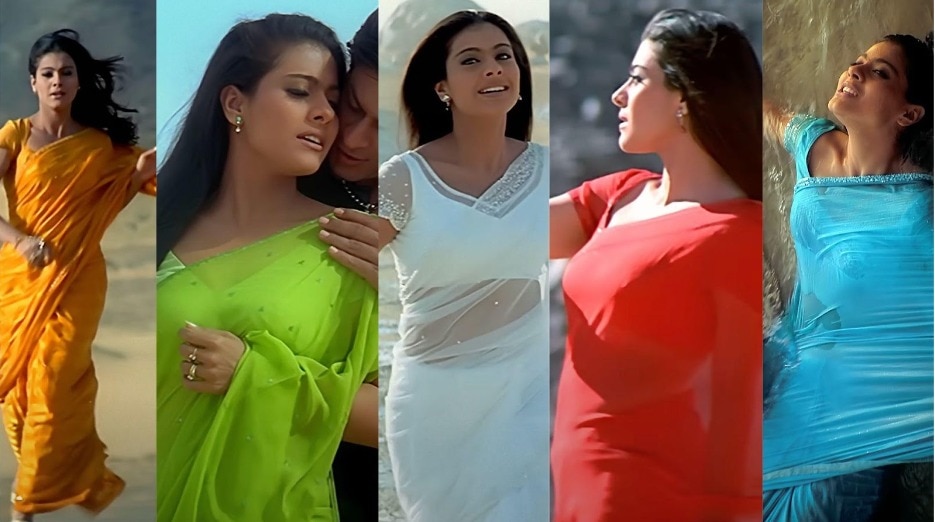 6. Rani Mukherjee in Tumhi Dekho Na
Amidst the glitz and glamour of the silver screen in 2006, the brilliant collaboration of actress Rani Mukerjee, styled by the maestro Manish Malhotra, set hearts ablaze in Karan Johar's poignant tale of "Kabhi Alvida Na Kehna". With dual-toned pallus, halter-cut blouses, and sheer fabrics with shimmering details, Manish adorned Rani in a mesmerizing array of iconic sarees drawing from the vivid palette of spring and fall. A testimony to the timeless union of cinematic brilliance and fashion wizardry, this collaboration continues to inspire awe.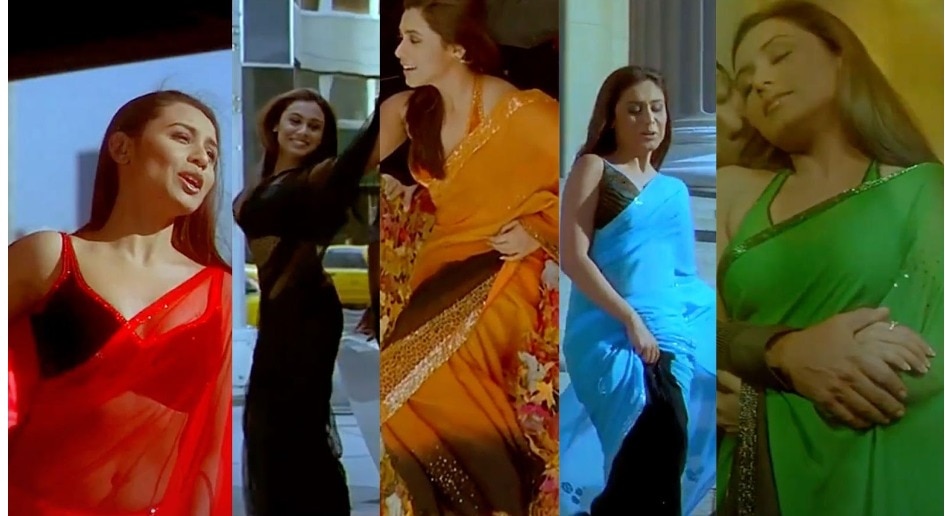 7. Aishwarya Rai Bachchan in Humko Humise Chura Lo
With a teasing wink to the past, the pastel saris from "Mohabbatein" have defied the passage of time. Even in the contemporary landscape, glimpses of their tone-on-tone embroidery, and sheer and satin fabric duo, make delightful guest appearances, proving its immortal appeal. The halter-neck pattern, a hallmark of the early aughts, found its way into the saree realm, and kudos to Manish for such an amalgamation of contemporary chic with the traditional grace of a saree.